July 31 and August 1 - rest days at Macks Inn
Jim: Macks Inn is one of the playgrounds of Idaho. Previous CDT thruhikers have mentioned it favorably – I can see why. As long as you don't need a supermarket or a serious outdoor shop, it has everything necessary. And if you do need the supermarket, it's up the road a few miles. Never thought we'd be going to the theater out here – but then, they had an AYCE dinner as part of the price – how could we pass it up? It's a good place to play.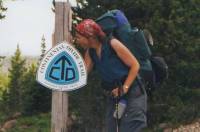 Monday, August 2 - 12 miles to Latham Spring area
We had a restful weekend, ate a lot, did laundry twice (once in a broken machine that wouldn't stop), saw the play (overdone, even for a farce, but it was fun) and went to church (nice, but it made me long for the church in Salmon.) We were out at the campground for two nights, then decided to go to the motel for our last night. Partly it was the advent of inconsiderate noisy neighbors (up till 1:00 am, then awake at 5:30 am), partly it was my desire for clean sheets, indoor plumbing and no bugs. In any case, it seemed like a good idea. We even watched a little TV, though again they have an odd selection of cable channels. We're up on current news, such as it is. Nothing that concerns us, fortunately. It all seems so far away and unreal. We're doing a slow start since we should have a short day today. We'll take one last shower, enjoy a leisurely breakfast, head to the Post Office, and get more money at the ATM, etc. Macks Inn turned out to be a better place to visit than expected, but being a resort near a National Park, it was expensive too. There wasn't much choice at the convenience store or restaurant, but it was enough, especially since we had a food mail drop here. I wouldn't want to resupply out of this store, though there's supposed to be another one a couple of miles away that may be better.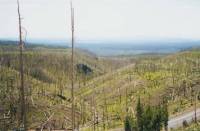 LATER: A most annoying disaster: the fuel pump on our stove is broken. It leaks like a sieve. The day before we went to town, a small piece fell off. I put it back on, but evidently a seal or o-ring is missing. Damn. That means no hot meals, no coffee or soup. It also means I'm stuck with a lot of food weight I can't use. I'm not sure whether there will be an outdoor store in the Park to replace it or if we'll have to have a new pump mailed to us. I don't really want to eat cold for the next eight days, or carry 16 lbs of useless food.
Otherwise, the day was rather nice. We started late, after reading the hiker register at the Post Office. Then we followed 12 miles of easy roads out of town, through scrubby forest and up toward the Madison Plateau. The last two miles were in the 1988 fire zone. There were lots of seedlings everywhere and lots of dead trees still standing. Finding Latham Spring, the only water for 25 miles, wasn't easy. It isn't visible from the road, and the trickle doesn't continue very far, so there was no greenery to guide us. We walked past it, then dropped our packs and went back after carefully studying the map. We built a small cairn and drew an arrow in the dirt, but someone mentioned doing that last year and there was no sign of it. The Forest Service has bulldozed earth barriers all along the road and they may have buried the cairn. We picked up water and stopped to cook, thinking we might walk on a few miles after dinner to an area that hasn't been burned. That's when we discovered the problem with the stove. With the broken stove, I'm not sure what we'll do. We could build a fire, but looking at the devastation around us, that doesn't really appeal.
Jim: I blew it. I didn't test the stove before we mailed the drift box and left town - and the stove repair kit was in there. We won't see the drift box again until Rawlins so we'll have to fix it some other way. Latham Spring is a really good spring but well hidden - you really need to pay attention to the map because there's no way to see it directly from the road.
Tuesday, August 3 - 15 miles to Summit Lake in Yellowstone
We ended up going cold, just eating cereal and snacks for dinner. We set up our tent near the road and were able to direct Dean and Maryann back to the spring, which they had missed. (So much for the cairn!) Our good deed for the day, I guess. There was a big wind storm in the night. I thought it was going to shred the tent, but fortunately, it didn't.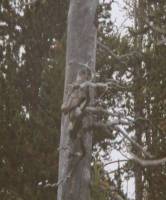 This morning was much like yesterday, following jeep roads up to the Madison Plateau. They've closed some of the roads by creating big earth dams across the road. They are a real pain to hike around every 20 yards or so. Trouble is, we weren't on the official CDT — Macks Inn is a short-cut used by most thruhikers because it is convenient for resupply and has water along the trail, which the official route lacks. We didn't pick up the official trail again until 15 miles out of town, so we can't really complain to the Forest Service about screwing up the trail with their tank traps, though we'd like to.
Anyhow, we went through old clear-cut areas and a few burned areas and even a little full-grown forest. Once up on the plateau, the land is pretty flat. You just head east for several miles through burned forest to Summit Lake on faint trail. Few people use this trail, and it shows. We heard a chainsaw this morning and saw signs of fresh-cut logs for about ½ mile, but never saw a maintainer and have no idea where he disappeared. With all the deadfall from the fires, it makes for a rather obscure route. The trail is blazed by orange metal tabs, but 3/4 of them were never mounted on the trees. They just sit on the ground, or they were mounted on trees that have fallen down. We mostly just kept looking for signs of old trail work like sawed logs or branches to guide our way.
LATER: Summit Lake is a buggy swampy lake, surrounded by dead trees, but there is a flat campsite and the only good water for miles, so it will do, especially since we have no choice. We have to camp at designated sites and this is the only one between the edge of the park and Old Faithful.
Despite numerous blow-downs and occasional disappearing trail, the afternoon was easy. Jim and I arrived at camp about 3:30. We passed one sulfuric thermal area and were briefly worried that that was our campsite, but it was still a mile away. We were disappointed that there was no indication when we crossed into Wyoming. We wanted to celebrate! We set up the tent, hung the food, got water, took a brief dip in the lake, and then it began to rain. It was the first real hard rain we've had on the trail since Glacier. The thunderstorm sat on top of us for over an hour. We read, looked at maps, and waited for Dean and Maryann to show up. They missed the rain entirely. When they got here I asked whether they had a stove repair kit. They did, and it had the o-ring that dropped out of ours. (Our repair kit is in the send-ahead box, of course.) We can cook again. No more caffeine headache!
Jim: The morning was more road walking - but the maps only help a little bit because they're not quite right. The road doesn't really do what the maps show them doing. Even Jim Wolf's directions are a little vague. But we just followed our noses and somehow it worked out. Then we got into the Park - and the fire damage. Not a lot of fun. I learned in Montana that I don't react well to fire damage. We stopped early when we got to Summit Lake, which was our "assigned" campsite. It was marshy and buggy. But it had water. Given a choice, we'd have carried water and made camp further down the trail, but we had decided to play the game according to the Park rules. And we wanted to wait for Dean and Maryann.
August 4 - 13.5 miles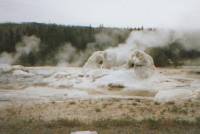 It rained off and on all night, but stopped just before we got up. The walk from the lake was an easy one: seven miles to the tourist area at Biscuit Basin, then three miles to Old Faithful. We saw a great horned owl, sitting in a dead tree near the trail, and a bull moose in a rocky ravine who wasn't at all afraid of us. He watched us for a moment, then went right back to browsing. We also saw a marmot right in the middle of the tourist area.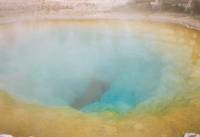 We spent the morning playing tourist, wandering around Biscuit Basin and the Upper Geyser Basin at Old Faithful. We saw several geyser eruptions: Riverside, Grand and Castle Geysers, as well as Old Faithful. We just chanced to be at each at the right time of day. There were lots of steaming vents and beautiful blue and orange pools. The crowds are rather overwhelming, especially inside the general store where we had lunch, but it is also rather fun. Usually thruhikers "play bear for the tourists." Today we were utterly ignored, and were able to watch the crowds entertain us as they rushed frantically to and fro. It was a zoo. As Dean said, "If I were a tourist, I'd hate this." But since we didn't have to deal with crowds and traffic except in passing, we could enjoy the show.
I had been looking forward to Yellowstone because the whole thermal basin is unique and beautiful. It's been years since I've been here, and it was the first time Jim had seen the park. The smell wasn't as bad as I remembered, through there were definite whiffs of sulfur from time to time. Biscuit Basin was really interesting, with all the geysers and thermal pools. We had fun playing tourist. By chance, we were able to watch five geysers go off. The only one we planned to see was Old Faithful; the others were just good timing.
We ate our fill of hamburgers and coke, bought some lunch food in the grocery, as well as some Ben and Jerry's, then went to the ranger station to pick up our permit. In going over the campsites, it turned out that we had been assigned a 28-mile day instead of the 21-mile day that already had me worried. When Shawna, the ranger, called the ranger who had given it to us, he replied, "They're CDT hikers aren't they? They can do it." We got a new permit without the 28-mile stretch, but ended up with some really short days instead. Many CDT hikers pretty much ignore the permits — either not applying at all, or not camping at their assigned sites, but I would rather stay legal. Though it will make this stretch longer than planned, it may be nice to have a more restful journey through the park--like a mini-vacation. Glacier was that way for us last year. It's nice not to be pushed to do as many miles as we can. I just hope we have enough food.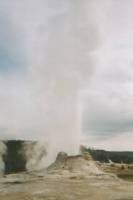 We left Old Faithful about 4:00 p.m., having had our fill of claustrophobic crowds. About a mile up the trail, we ran into a backpacker who looked like a distance hiker. He turned out to be Andy Quinn, who started hiking the CDT in New Mexico at the end of April. We sat in the middle of the trail and talked for about two hours. Andy said the trail south of here is badly marked, or not marked at all, but he loved Wyoming and New Mexico. The snows in Colorado forced him to do a lot of road-walking and lower elevation routes. It was really fun to meet him. Evidently another northbounder, Dick Mallory, saw us somewhere around Biscuit Basin, but we didn't see him. He ran into Dean and Maryann, whom we met again at lunch. I wish we could have met Dick. There are also two women, Laura and Leslie, northbound thruhikers, who are supposed to be north of here, but we never saw them. With all the alternate routes, it is very easy to miss the few other hikers out here. We get so excited when we do meet other distance hikers since there are so few of us. Dean and Maryann weren't at all excited to meet us though, which was disappointing. I'm not sure whether they disliked us personally, or just weren't in the mood for company. We shared a campsite and barely talked, while Andy risked missing dinner in order to talk to us.
We arrived at our campsite just at dusk. It is next to some fumeroles. As we walked up the trail, we passed a dozen tiny steam holes. It's a strange world. I can hear bubbling to one side and there's a hot spring (too hot to bathe in) about 100 yards up.
Jim: It was a good day - short miles, easy trail, ice cream, hamburgers, and interesting sights to see. We got to play 'bear' for the tourists, met our first (and probably last) northbound thruhiker, then got to play 'bear' for a ranger and his fire-fighting crew and finally found our campsite, which wasn't nearly as bad as last night's although there was a lot more steam from the fumeroles. Andy told us about the other thruhikers that he'd met, about his trip across the Red Desert and about the ford at the Shoshone Lake outlet.
Thursday, August 5 - 14 miles to Moose Creek
We had a very pleasant morning, walking past creeks and meadows in pine forest. It was very pretty country, not burned at all. We went through the Shoshone Geyser Basin: about ½ mile of bubbling boiling steaming pools and geysers - Old Faithful in miniature. Then there was a big swampy area and large windy Shoshone Lake. We met two Germans on a sandy beach along the shore. We passed a Boy Scout troop from Globe, Arizona and a scoutmaster from Boise. It's a busy trail. We'll be doing a short day because of our permit. Yellowstone has a lot more backcountry campsites than Glacier, and only one party is allowed at each site, which I like better than sharing a site with strangers, but some sites are restricted to stock only or groups only, so many of the sites were unavailable to us, even though no one else is using them.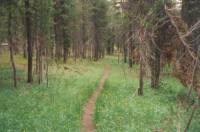 The afternoon was short and uneventful. We're camped by Moose Creek, in pine forest looking out at the willows that line the creek (the better to hide the moose.) Although the sky has been threatening all day, and we heard thunder off in the distance, right now the sun is shining. The only interesting wildlife we saw was one blue heron and a woodcock. The mosquitoes are, as usual, pestiferous. I washed up quickly in the stream, and that actually helped cut down the swarms. That and a good dose of DEET. We took our time and finished hiking at 3:00. The temptation was to keep going, despite the permit, but I figure that tomorrow will be a long enough day, so I might as well enjoy today by airing out our sleeping bags, rinsing out our salty hiking shirts and socks and resting a bit. Soon enough we'll be back to doing big miles. It's nice not to be exhausted at the end of the day, to have time to watch butterflies dance in the sunlight.
Jim: An easy day – short miles, not much climbing, and good trail. But there was more than one mosquito.
Friday, August 6 - 20 miles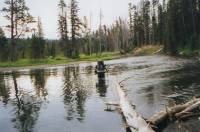 It ended up sprinkling off and on all afternoon and evening, then again this morning and early afternoon. We spent much of the afternoon yesterday in the tent, reading and writing. Very peaceful. The walking today was mostly easy, with small ups and downs through mostly burned forest. It wasn't as pretty as yesterday, though parts were quite nice, like Heart Lake with red Mt. Sheridan looming above. Most interesting was crossing the outlet from Shoshone Lake. Andy said he swam it, while in the McVeigh video Carol crossed it about waist deep, but it turns out there is a sand bar downstream a bit so we didn't go in more than thigh deep. The stream is about 50' wide and slow moving. I was just as glad not to have to swim and risk getting all our gear wet with a deep crossing. A little later we saw a small herd of elk. They're the first large animals we've seen since Old Faithful. We also saw a western tanager - red, yellow and black. It was a beautiful bird.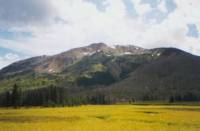 We ate lunch with a scout troop from Utah. They were waiting for a ride at the parking lot at a trailhead. We stopped to go to the bathroom and dump trash, and ended up staying and talking. We saw lots of people on the trail to Heart Lake, including some day hikers. Oddest was one man retrieving his food from the tree where he had hung it - about three feet off the ground. I don't know what he thought he was protecting it from - chipmunks? He must have been camped illegally, but he wasn't really smart about it. I saw a couple of new flowers: blue gentians and monkshood. Yesterday I saw a pretty dainty red and white one by a stream that I had never seen before. I wish sometimes that I had a flower guide with me, but they're too heavy for a thruhike.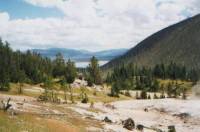 The upper part of this valley is another thermal area. We didn't detour to visit the geyser, since we have no idea of its schedule, but we saw several boiling springs and smoking holes. Witch Creek is a hot one that we crossed three times. We saw a Youth Conservation Corps trail crew cutting blowdowns and setting water bars. I think that's the fourth trail crew we've met this year. Good stuff. Heart Lake is a pretty one with a pebbly beach that we followed for about 1/4 mile. We scared off a flock of brown-headed ducks there and saw several Canadian geese farther out. One treat: I found several patches of ripe strawberries. Delicious!
Saturday, August 7 - 19 miles to Mink Creek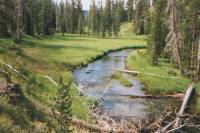 Today was a river day - four fords in the first hour, then we followed the Snake River for several miles. We lost the trail in a meadow and ended up bushwhacking along the shore for about three miles. It was a real pleasure to find the trail again. Then we ran into a Forest Service trail crew working on the trail, building sidehill. Thank you. We saw three deer. Two were bucks and may have actually been the same one seen a mile apart. We also saw a small hawk that was bigger than a falcon, but smaller than a buteo.
This morning I felt so good--free and happy--as if I could hike forever and all the wilderness is ours. We leave the Park this afternoon, and won't be restricted in our campsites, which is a part of it. (I hate having to follow someone else's schedule.) Also we'll be heading into the Teton Wilderness, and probably won't see any people for a few days, which is always nice. (NB: Boy was I wrong!) Mostly I felt good because the sun was shining, after several gloomy grey days, and it was too cold for mosquitos. Halleluia! Last night the mosquitos weren't bad at all. A big thunderstorm swept past without raining on us, but with winds and a drop in temperature that was quite noticeable. It warmed up this morning so the flies are out, but not too badly. I'm having an allergic reaction to a deer-fly bite: a big two-inch red welt. Ouch!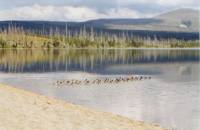 I'll be glad to get out of the fire zone. Most of the last 20 miles has been burned. There are grasses and flowers and saplings, but it is still rather oppressive. Besides, we get really hot and thirsty with no shade.
LATER: We only saw one more deer, drinking from the Snake River, and one more hawk, plus a Forest Service group on horseback. No hikers. We climbed above Snake Creek to an area with big open meadows called Fox Park. We looked for the female grizzly and cub that are supposed to hang out there, but didn't see them. A thunderstorm rumbled and grumbled, but we barely got damp. We're camped near Mink Creek, outside of Yellowstone Park and out of the fire zone. It's nice to see green trees again, especially when looking for a tree to hang food away from the bears. We ended up going farther than intended because the meadows had water, but no trees, and the forests had trees but no water. We're both pretty tired. I think yesterday's long miles, after so many short days, took more out of us than we realized.
Jim: Most of the day was following the trail down the Heart River drainage then up to the headwaters of the Snake. We did okay until we got past the Fox Park Patrol Cabin and into the Teton Wilderness. Then we managed to lose the trail for the second time (or was it third?) today. The maps don't show the plethora of trails that have been created by the horses. The Forest Service horse group was a strange one - the only woman in the group was really interested in what we were doing, two of the men were the guides/wranglers/cook/whatever and the other man never said a word - just listened. He was the "big-wig" - the one this trip was meant to impress. Not sure how impressive he thought we were. I think he just didn't know what we were. The guides did though - they made a point of asking questions that would let him know that we weren't your average two-week vacation backpackers. So we got to play "bear" for them too.
Sunday, August 8 - 19 miles to N. Fork of Buffalo Creek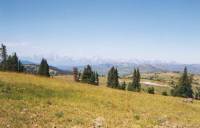 We had a good thunderstorm last night, just after we went to bed. We had watched it build, blacker and blacker, over the ridge to the south of us. The rain didn't last long, but it was wet and noisy while it lasted. Jim saw an elk on that same ridge. I just heard it bark (warning or challenge?)
This morning dawned fair and sunny. We packed up our soaked tent and began a climb along the meadows of Mink Creek under towering cliffs, then climbed steeply up a ravine to the Divide. We were up over 10,000' on a big open plateau. The views were fantastic: the Tetons to the west, Yellowstone to the north, the Absaroka Range to the northeast, Soda Mountain to the south. There were also wildflowers galore. Unfortunately, we didn't stay up on the Divide very long. We soon descended a steep narrow trail past a couple of waterfalls to "the Parting of the Waters," where a creek comes down from the Divide and splits into two creeks, one heading for the Atlantic Ocean and one for the Pacific. It was a good place to eat lunch and dry out our gear. There's a wide wet meadow at the pass there. There are so many meadows. I expect to see a lot more deer and elk than I do with all the rich grass. Maybe we're just passing through at the wrong time of day? I imagine that in the evening they are covered with wildlife. Today is cool and windy - a storm passing through or the first hint of autumn?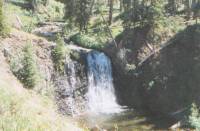 LATER: The day stayed nice, with lots of good views of Soda Mountain and Smokehouse, Joy Peak and other ridges and mountains. They were beautiful. There were lots of open meadows. The area was partly burned, but still has green trees on the far side of the valley. It was really pretty most of the way. The rocks and cliffs had a lot of red and orange - very dramatic. These big open meadows are certainly different from the terrain northwest of the park. Each section of trail has been unique. I love it.
The main distinction today, besides views, was all the pack trains. We saw four groups of horses in the middle of the afternoon. Actually, it was two and two; the outfitters led with the pack animals and then the paying guests followed a long way behind. Altogether we saw more than 40 horses. We passed another group from a girl's camp late this afternoon. They had another 20 or so horses. Then, while we were cooking dinner, another 14 animal pack train passed us (and another after we went to bed.) The damage they do to the trails is incredible. We saw places where there were six or eight trails, side by side, or one 20' wide trail where they all merged. Evidently mules don't like to follow in single file. Any wet area becomes a rutted quagmire, and steep areas become rocky eroded gullies. I was determined before we started this trip not to let prejudice affect my observations or mood, but by the end of the afternoon, I was pretty irritated. This has been a pretty dry summer. In early season they really make a mess of wet trails, now we just have to deal with the dust they raise when they pass us. We ate a lot of trail dust today. (Funny thing though, Tim at Big Sandy Lodge said that the bulk of his outfitting customers are hikers who use the horses to bring in their gear so they can have a nice comfortable camp which they use as a base for day-hiking.)
Jim: If I comment on the horses, it's gonna get real negative real quick - so I won't.
Monday, August 9 - 11 miles - Dubois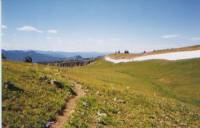 Today didn't go as planned. In fact, in some ways it was a real disaster. We got a late start, which wasn't a problem as we were only supposed to go 10 miles to Togwottee Lodge, pick up our food drop, get a room and shower, and relax. However, first we ran into an error in the guidebook: a turn in the wrong place that led us an extra mile in the wrong direction to the trailhead at Turpin Meadow. Not a big deal, but it is always frustrating to have to backtrack. We then crossed the North and South Forks of the Buffalo River on nice pack bridges and began climbing directly toward the lodge on pack trail instead of continuing on the CDT to Togwottee Pass and hitching back 10 miles. It was a steep 1500+' climb over the ridge. There were some nice views, but it was a grind. Finally, we arrived at the lodge. Our food drop wasn't there, there were no rooms, and if there had been, they were really expensive. So we decided to eat lunch at the nice restaurant there, then head out on the highway to Dubois, 40 miles down the road. Unfortunately, getting a ride proved impossible. There was no place for a car to pull over, so no one did. Finally, a lodge employee whom we had spoken with at lunch asked her friend to drive us into town on his way home. He was interesting. He is a professional dog sled racer with 85 dogs. In winter he races or takes tourists out into the mountains with his dogsleds. In summer, he works construction. He didn't intend to go all the way into town, but after talking with us a while, he offered to take us to the motel.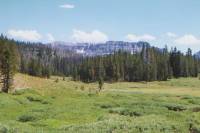 It was a really pretty drive. The mountains on the way into town are fascinating: red sandstone and granite spires. I've really liked the country around here. The Tetons, the ridges around Togwottee, the badlands, etc. are beautiful.
The worst part of the day wasn't the missing food box or the lack of a room at the lodge — with no food a trip to town became a necessity — it was being so hot and filthy. I was desperate for a shower. Our clothes have salt stains on them and are so stiff they can stand up on their own. I had heard that Dubois is a nice town, so a visit isn't unwelcome. It's a bigger town then most we've been in -- population 894 according to the sign outside town. It has a bookstore and several motels and restaurants and is very popular among long distance motorcyclists and mountain bikers.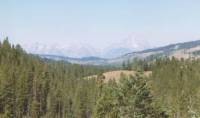 Jim: It's nice to get clean again - and even better to have something for dinner that's not pasta. We spent part of yesterday afternoon wondering where we were. The trail didn't match the map at all. We finally made camp just off the trail near one of the few water sources. Watched a couple pack trains go by just before dark – they do raise one hell of a dust cloud. We counted about 75 horses going one way or the other yesterday – and another 90 today.
August 10 - rest day in Dubois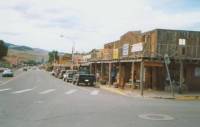 We spent the day waiting for maps etc. to be overnighted to us. Evidently there was some sort of mishap and the Togwottee box was put away in the wrong place. Kahley didn't realize it was missing until we called. Oh well. That's the first time that has happened, so we can't complain – especially since it was easy to fix the problem.
We checked our e-mail at Earl Sampson's house. He is a newspaper reporter for a local paper. The woman at the Chamber of Commerce called him to ask if we could use his computer. Turns out he lives way out of town and we could have gone to the library to check our e-mail, but it was an interesting drive, so I'm glad we went with him. We learned a lot about local attitudes and experiences regarding wolves and bears. We had a lot of CDT-related messages. Bill G. and Dave are both off the trail. Willis is on his way to Colorado to finish up. Lynne Weldon would like to interview us for a video on the CDT if we can connect in September. Doug had to shorten his month-long section hike in Colorado because his wife got ill. Lots of news. But then, it has been a month since we last checked our mail in Salmon. We were sorry about Dave. He may have a stress fracture in his foot, but also I think he had other things he needed to be doing right now besides hike.
August 11 - still waiting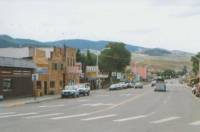 Our FedEx package didn't arrive until 4:00 PM, long after we had paid for another night at the motel. So, we went back to the library, bought a couple of books and magazines and generally just took it easy today. I got a bit depressed at the loss of time and extra expense, but it wasn't a bad day. It poured at lunchtime, and hailed outside town. I really didn't mind missing that. We ate well, though our stomachs didn't handle the town food well. We both spent much of the day in the bathroom. We felt much happier when our package arrived and we were sure of leaving the next day.