The campground slowly filled up last night, but only about ¼ of the spaces were taken. It was a very quiet night and we slept well. Tonight we're back in Utah at Green River State Park, where a Girl Scout troop fills several spaces. I don't think tonight will be nearly as peaceful as yesterday. But at least we got a shower.
We spent part of the day hiking the Black Ridge Trail in Colorado NM. It's a 5 ½ mile hiking trail in the hills above the road. It was a beautiful hike, though not as spectacular as the hikes down into the sandstone. We were above the cliffs in a rock layer that doesn't form sheer cliffs. There was color: layers of gray, purple, green and blue, but not the orange and red sandstone we saw yesterday. We hiked from 5700' – 6700' in piñon-juniper-sage grasslands. There were good views west to the Book Cliffs, Grand Mesa and the Grand Valley (Fruita, the Colorado River and Grand Junction), east to the McKinney Conservation Area and south to the still snow-covered San Juan Mountains. The grass was lush: a lot of good grasses and not just the usual brown cheat grass. There were masses of wildflowers: pink and yellow prickly pear, white yucca, mariposas or sego lilies, orange paintbrush and several yellow sunflower family flowers. We only met two other groups on our eleven mile out and back hike.
The only wildlife was several bright collared lizards, the hoot of an owl and gobble gobble of some turkeys.
We decided to head west to Green River, Utah to see a petroglyph panel we missed when we were there earlier this year. It's only 90 miles from here and is supposed to be a really good one.
Saturday, June 9 – Green River, Utah to Cortez, Colorado
Today was an unexpected day in a lot of ways. We started out sleep deprived thanks to a noisy group that partied past midnight. We had several options for today, but our main goal was to find Sinbad's Head, a Barrier Style pictograph that was described as one of the best preserved panels in Utah. They were right. There were two panels, one very dark red ghostly figure and two objects that may (?) have been heads and one that may have been a dog, but looked almost like a monkey. Another panel had some interesting details, but the paint was more faded. After 3000 or more years, that's not surprising. We missed the panel before because the description we had on how to find it was a bit hard to figure out. It's about 13 miles off the freeway down some very remote, soft sand roads. There were a few signs, but not many. We guessed on a couple of the turns. Fortunately, we guessed right. Another nearby pictograph was a lone warrior with a shield and spear.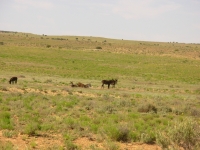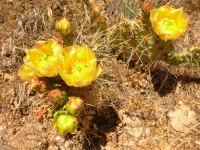 Then came decision time. Should we continue wandering the back roads in the San Rafael Swell in search of arches and slot canyons or head back to Colorado? Our lack of energy from too little sleep led us back to the freeway. We spotted several antelope and wild donkeys in the desert. As we passed a couple of bicycles, loaded for a long journey, I asked how long they had been out. "Five days," was the answer. Then he asked if we had any water to spare. We did, and we shared happily. They had gotten water from a stock pond, but even filtered it tasted bad. We know what that's like! We were happy to be able to help out.
A short while later, as we approached I-70, I spotted a dog beside the road. We were moving slowly, so we had time to stop. The dog was alive, but seemed to be injured since it didn't move. It was a cute ragamuffin dog, very dirty and very skinny, but good tempered. It was obviously frightened but didn't snap at us. We looked for a collar and found one, with a broken rope attached. No tags though. It was lying in full sun and very dehydrated. We gave it water, slowly, and Jim cleared out the back of the truck.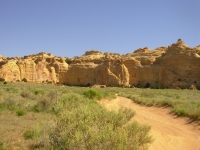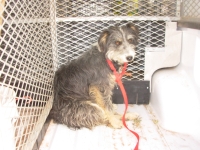 A couple stopped and helped us place the dog on a blanket and lift it into the back of the truck. The nearest town was Green River, so we drove there. The Sheriff's office was closed, so we asked about a vet and were told that the nearest would be in Moab, another 50 miles away. So off we went, after giving the dog more water. At the Visitors Center in Moab we asked for information on veterinarians or animal shelters. The woman at the desk was very helpful. There are a couple of "dog ladies", as well as two vets and an animal shelter, but no one was home on a Saturday afternoon. Finally someone suggested calling Animal Control. They should be able to find a vet, and in the meantime, they would have a place where the dog could rest in comfort. I hated to do that, but didn't see a lot of choice. The dog needed to be seen by a vet. Though the water had made it perk up a lot, it still couldn't stand. It was another 100 miles or so to Grand Junction, the next town with a vet's office. Janette from Animal Control took the dog in her truck and promised to take care of it. She assured us it wouldn't be euthanized. That made me cry, because I was really worried about it. She said it was probably a ranch dog and she had ranch contacts and would see if she could find the owner or get it adopted. I felt better about leaving the dog after that. We were in no position to take the dog home with us, (since we don't have a home), but I still hated to abandon it.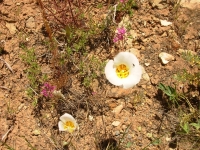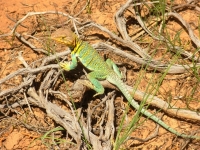 Since we were now in Moab instead of Grand Junction, the question arose, where do we go now? We had toyed with the idea of filling in a few gaps in our southwestern archaeological tour in New Mexico, but were reluctant because of the distance. However Moab started us on the road heading south, and we knew we could be in Cortez in southern Colorado by nightfall, so we headed south with the intention of going on to El Morro, Bandelier and Petroglyph National Monuments over the next week or so, before heading back to Colorado. We only have a few places in Colorado that we had planned to visit this year. Colorado NM was one. Black Canyon of the Gunnison was next on our list, before our detours west and south. Every place else in Colorado is still covered with snow and will be better visited a week or two from now, after snow melt has begun. So it's a good time to head to New Mexico.
---
---
---
Created: 10 November 2007
Revised: 30 Sept 2016
Copyright © 2007-2017 Spirit Eagle