Desert winds power the windmills. Nearby oil wells pump black crude endlessly. Our hunger for power overwhelms our capacity. I hate seeing beautiful desert scarred by the windmills and pumps, but understand the necessity. Empty land, beautiful land, harsh land. I want to hide in its vastness. I'm tired of cities and cars and traffic. I really need to spend some time in nature. Hiking the CDT last year again made me unfit for city life. My tolerance for "civilization" decreases every time I spend time in the backcountry. I wonder what will happen this year?
As we drive, we're listening to a couple of lecture series on tape, which I've really enjoyed. It makes the miles pass quickly. One was on Science and Religion, one on St. Augustine, and the last on Understanding Classical Music. I hate driving long distances, so I appreciate any distraction.
Sunday, March 11 – 6 miles in Big Bend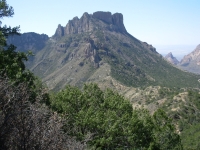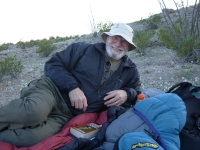 We got a late start this morning after a quick breakfast at MacDonalds, so we didn't reach Big Bend NP until noon. Then we drove through the northern desert section to the Visitors' Center where we learned that all the developed campgrounds were full. The backpacking sites and the roadside primitive campsites were also full. Dang! The ranger at the front gate suggested going outside the park to one of the private RV parks. He also said something about "Zone Camping". We asked about it at the Visitors Center and learned that it is possible to get an undesignated backcountry campsite. All you have to do is camp half a mile from roads or trails and stay out of sight. Reminded me of Shenandoah National Park! We decided to do that since we have our packs with us. It wasn't all that difficult to get out of sight since there are ridges and ravines to hide in. I was concerned that finding a spot free of cactus would be a problem but we got lucky and found a nice flat gravely spot above a wash. We are all alone out there, just us and the wind. No noisy neighbors. It is very windy. A big dust storm just before we started out worried me a bit, but it died down quickly. We didn't set up the tent since I hate listening to tents flapping in the wind. Besides, I love sleeping under the stars.
We spent the day hiking and touring. There is a really nice trail, the Lost Mine Trail, that goes 2 ½ miles up to a ridge with really nice views. We started our hike about 1000' higher and climbed 1000' from there, so got into a transition zone with juniper and piñon pine and lots of shindaggers. Good thing we were on a wide trail. Only one jack rabbit and a roadrunner provided wildlife interest. There are pink, blue, yellow and red and white stripes in the ridge and some interesting pillars. It was a busy trail but worth the effort.
We headed to Chisos Basin and took a short walk to look at the view there, got an ice cream bar, then drove 30 miles to Rio Grande Village by the Rio Grande. The campground there was nice, with grassy areas and big cottonwood trees. Mexico is just across the river, which looked very shallow. I'm sure there are a lot of people crossing at night.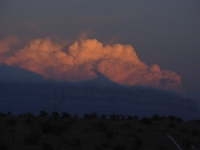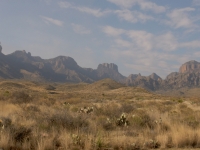 Then we headed a few miles back up the road where we parked the car and walked east across the desert. It was too windy to cook, so we just ate a sandwich in the car before looking for a campsite. There are lots of wildflowers: white peppergrass, blue lupine, and fleabane and creosote in bloom.
The Sierra de Carmen to the east of us is striped purple and white from this distance. A band of clouds hugs the peaks and lightning flashes every few seconds, but it's too far away to hear thunder. Since we're sleeping out under the stars, I really hope the storm doesn't head our way.
Today was a good day. The mountains are beautiful. In some ways it reminds me of Kolob Canyon in Zion, but rougher and dryer. Big rocky cliffs rise dramatically above the narrow dry washes. The vegetation is mostly creosote in the desert with prickly pear, yuccas, lechuagilla, etc.
Monday, March 12 – 13 miles in Big Bend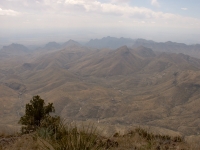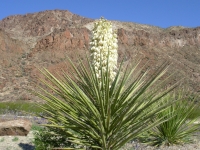 We fell asleep watching the stars and the distant storm, then woke to a nice sunrise. We rolled over and went back to sleep and didn't get up until 9:00. That meant we didn't start our hike in the Chisos Mountains until after 11:00 since we had to drive there and eat breakfast first. It turned out to be a really nice hike, a 13 mile loop up the Laguna Meadows Trail to the South Rim with beautiful views off the edge of a cliff, then down the Pinnacles Trail where we followed a shady creek bed most of the way. That one had some interesting rock formations. One section was covered with beautiful multicolored lichen and algae. The base rock was orange, but the algae was blue, green, yellow etc. There were lots of people on the trail, about half doing dayhikes and half backpacking.
We ran into a trail crew and one of the guys, Casey, knows our friend Weathercarrot. Small world. It was a strenuous hike but really nice, despite the crowds. It was a bit hazy from yesterday's dust storm, but I enjoyed the views and the rocks anyway.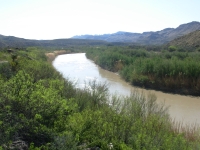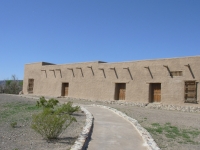 We picked up some ice cream at the store, then headed out to the western side of the park. There is a long loop drive out there with interesting rock formations: dragon backs and badlands, white chalk, big cliffs by the river, narrow Santa Elena Canyon cutting through the cliffs, etc.
We were supposed to camp in that zone, but by the time we got there it was late and we really didn't want to rush to find a place to set up before dark. Besides, after our hike we wanted to clean up and there was no water where we were supposed to camp. So we headed to Terlingua, a town a few miles outside the park. All the motels were full so we stopped at an RV Park with a shower. We had dinner up the road at Old Terlingua. The food was good but the atmosphere was a bit weird (neon palm trees and posters of ladies in bikinis selling beer). It was quiet at the campground and the shower felt wonderful, so we were happy.
Tuesday, March 13 – 4 miles in Guadalupe National Park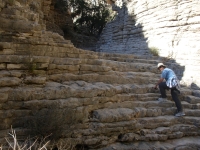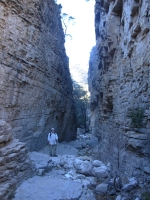 We started the day with an interesting 60 mile drive along the Rio Grande. There is a huge state park, Big Bend Ranch, along the border with river access for boats and rafts and lots of wild desert and crumbling mountains. There is supposed to be good hiking at Big Bend Ranch, though it is just as dry as the National Park. Mexico is across the river – green farms and tall cliffs. The road winds up and down through the hills and empty desert. It was very wild and beautiful. The park headquarters is in an old fort/trading post, a huge adobe presidio. We didn't take the tour, just went in and out of the information office, but it was interesting. There was a nearby Spanish mission in the 1600's but it's long gone.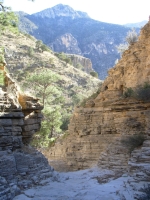 We drove through the town of Presidio, which is spread out and quite ugly, worse than Alpine. We won't be settling in West Texas. Still it was a nice drive through the desert to Guadalupe National Park. I was surprised to see a huge wind farm nearby. Windmills covered the ridge for about 10 miles. Renewable resource - good; destruction of desert - bad. I have really mixed feelings about windfarms. They aren't as discrete a presence as some would like to pretend. Wilderness it's not.
Guadalupe is a small park, especially compared to Big Bend. The tent campground was full, but they said we could park our pickup in the RV lot. There are no trees or shade, but it's cool enough neither was really necessary. Besides, we went for a four mile hike up the Devil's Hall Trail and by the time we got back the sun was behind the ridge. That was a nice hike up a dry creek to a slot canyon. The pour-offs were steps, easy to climb and fun. I really enjoyed it. We saw two mule deer there. Earlier I spotted five antelope beside the road and several hawks. All it all, it was a good day.
March 14 – 9 miles in Guadalupe National Park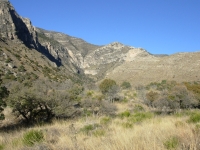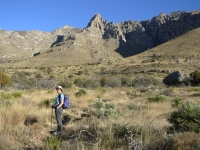 We did another dayhike in Guadalupe, a loop with a 2500' climb to a large bowl with pines and spruce high above the desert. The climb wasn't bad--fairly steady with occasional respites--but the descent was steep, rocky and quite nasty. Highlights on the way up were the views of Guadalupe Peak and the upper Pine Creek valley. The only highlight on the descent was some huge boulders that had dropped off the mountain. The advantage of this hike was it was quiet; we only met two groups of backpackers on the trail. Guadalupe Peak was undoubtedly a zoo, since a lot of people climb that trail. It's the most popular one in the Park.
We were worn out after our hike, so we headed to Carlsbad to get cleaned up, do laundry and buy groceries. Jim didn't sleep at all last night – he has either a bad cold or allergies. I was sick two days ago, so it's probably yet another cold (our fourth since Christmas!) He's suffering.
I liked Big Bend more than Guadalupe National Park. It's more spectacular and has more vegetation. The desert here is very dry and fairly sparse. Both our hikes took us up into trees, but the surrounding area in Guadalupe is not green at all. There are no flowers yet, although we are only 100 miles or so north of Big Bend where there were many flowers.
I enjoyed driving along the Rio Grande yesterday. Though the river itself is a muddy brown, the bushes bordering it are already green and leafy. There is a lot of salt cedar, but occasional cottonwood groves and farms provided a welcome touch of green.
Tomorrow we'll play tourist at Carlsbad Caverns. I'm looking forward to that. I visited Carlsbad when I was about 10, a very long time ago.
Southern New Mexico
---
March 15: 3 mi. at Carlsbad Caverns
We had a terrific day visiting Carlsbad Caverns. We spent almost six hours underground. First we did the self-guided Natural Entrance Tour, then a ranger-led tour of Kings Cavern, etc. then we went back to wandering on our own through the huge main cave. Each segment took about 1 ½ hours, since we stopped often to gaze in awe and take photos. We ate lunch in between at the underground snack bar, which was rather fun.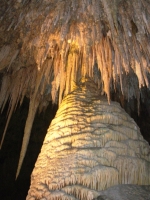 It has been 40 years since I last visited Carlsbad and I remembered only that it was beautiful. Reality was much better than I expected. There were lots of cave formations, stalactites, stalagmites, columns, drapery, pipestraws, flowstone and popcorn. It was really beautiful. The caves are huge, so the formations are also large.
As we entered the cave by the natural entrance, switchbacking deeper into the pit, at one point we looked back up at the circle of light far above our heads. Because of the difference in temperature - the coolness of the cave versus the heat outside — a foggy cloud appeared, right at the junction of the two. That was interesting. We saw fossils in the walls. Unlike Mammoth, there were no cave crickets. We were too early in the year to see bats, though there were multitudes of swallows flitting around the entrance.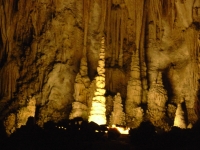 The ranger tour was a good one. The caves we visited were worth the extra fee. It was awesome – really terrific. Carlsbad has wild cave tours as well, but they require a lot of crawling, which didn't really appeal. Maybe next time? The ranger's description of nearby Lechuguilla Cave, which is not open to the public, was fascinating. It's a totally wild cave, not contaminated at all by visitors since it was only discovered recently. Only researchers have been allowed to enter. They've discovered an entire ecosystem in a pool of water, and a completely different ecosystem in a pool eight feet away.
Jim had fun today too. I can tell; he took a lot of pictures. There were lots and lots of people, but the tours were fun anyway, despite the crowds. Afterwards we drove an hour or so up the road to Roswell, where we stopped for the night.
Friday, March 16 – 2 mi – Motel in Quemado, NM
Today was interesting in a lot of ways. We didn't go very far, but we had fun. First we drove through the mountains past Ruidoso Downs to Three Rivers, a petroglyph site. There was snow in the mountains, not a lot, but some. Three Rivers is a mile-long ridge with thousands of petroglyphs scattered on the rocks. They're 600-1000 years old, with lots of variations: people, Kachinas, animals, geometric patterns, maps, etc. It was a lot of fun exploring. There has been a lot of vandalism, rocks hacked apart and new graffiti, despite the protection of being a developed BLM Recreation Site. Probably because it's a BLM Recreation Site. My brother Jeff has taken us to several really good sites in Arizona that were 'wild' sites, totally undeveloped, and they were much less damaged. Still, this one had some really nice panels and pictures.
Then we decided to check out a couple of Grand Enchantment Trail (GET) towns to see what we can expect when we hike there to resupply. Polvadera had nothing. We couldn't even find the post office. Limitar had a gas station which had very limited supplies. We would probably do better to hitchhike to Socorro. Magdalena, on the other hand, was much better. The grocery there was pretty good and there were several motels.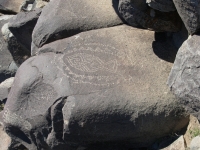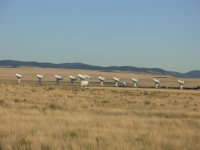 We also drove past the VLA (Very Large Array) site, several radioastronomy dishes out in the Plains of San Augustin. They are not far from the highway. Quite cool.
Then we saw a really cool optical phenomenon. The sun was near the horizon. The sky was clear, totally cloudless. As we passed a hill, the sun was hidden behind the peak. The light emanating from the sun appeared to us as a rainbow halo. It was really cool. As we continued around the hill, the rainbow moved, but still remained, crowning the hill. It was beautiful. It faded as the sun began to sink, and we lost it when we went behind a ridge. We tried to photograph it, but the camera didn't catch the rainbow effect at all. (Later I learned that the phenomenon is called a corona.)
We ended up staying in Quemado at a cheap motel. There's no phone, a broken TV and a too soft bed, all for $42, but we were tired and they had WIFI, so we stayed.
As we've been driving across New Mexico, my feelings are mixed about our upcoming GET hike. The land is still winter brown, despite recent rains. Last year we never did see any green until San Pedro Parks north of Cuba. It is hard to be enthusiastic about spending two months in a brown and gray landscape. Yet I enjoyed New Mexico last year, despite the drought, and even Wyoming's Great Basin, which was equally colorless. I did enjoy the area around Datil today: rolling yellow hills with scattered piñon and juniper. The area around Ruidoso was also familiar ponderosa pine country. This hike will be a mixture of desert, grasslands and forest, I think, not just endless miles of creosote flats. We've seen a lot of that the past few days. There was snow on the hills at 7500', which was a good sign for water availability in New Mexico this year. Spring may yet appear.
March 17-20 - Phoenix
We spent a few days with my brother Jeff, his wife Lynn and their daughter Carley in Scottsdale, Arizona. The whole family got together at my other brother, Jack's house and I got to see my nephew Eric for the first time in a decade or more. It was fun to see everyone again and to prepare for our hike on the GET.
---
---
---
Created: 10 November 2007
Revised: 16 Nov 2009
Copyright © 2007-2017 Spirit Eagle